Business & Finance Courses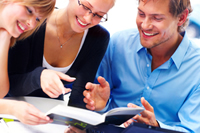 We offer a range of Business and Finance training courses providing a high quality, professional education in a supportive, interactive and personalised learning environment. Our courses are both exciting and challenging, and geared to equip graduates with the qualifications and skills required to pursue a career in today's fast moving corporate environment.
Whether you are looking for something to further your knowledge or further your career, there is something here for you.